An upset of epic proportions, the off the scale magnitude, the incredible happened this past weekend. The Indiana University Hoosiers (unranked and my Alma Mater) defeated the NCAA #1 ranked team, the Kentucky Wildcats, on a last second 3 pointer at the buzzer. The lead changed hands three times in the closing 2 minutes, Score 73-72. The barn burner could not have been predicted better.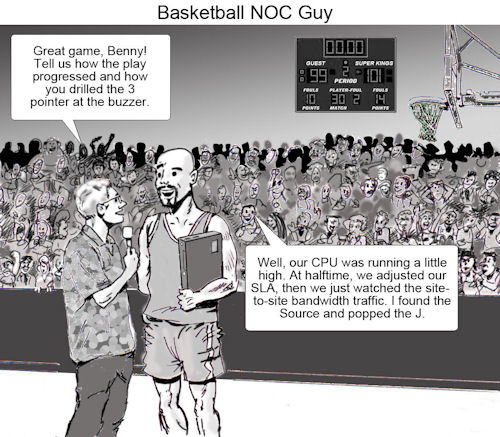 Not only the significance of this win, the Hoosiers has not beat a ranked team since 2002 and have not won the National Championship since 1987 (under Bobby Knight fame and the heroes of Steve Alford and Keith Smart…And Yes, I was at the Fountain in Bloomington, but that is another story). Let me put this into perspective, there are over 340 Division 1 schools in the nation. It takes a lot of talent and hard work to be #1.
With the Indy Colts in the cellar without Peyton Manning, the State of
Indiana needed and shot in the arm, a hair of dog pick-me-up, a just a plain
old fashion confidence boost. Even the
engineers from Purdue were cheering.
I know what you are thinking. What does this have to do with Business of Sports and Information Technology? Two Things:
1. Just like sports competition, there is competition in business. If you consider the breadth of the ManageEngine product line, we compete with over 100 other software vendors in the market. That's a lot of choice. ManageEngine has over 20 products covering network management, application management, desktop management, Active Directory management, log analysis, traffic analysis…and there is more. Then, if you consider the depth of the ManagEngine product line, it covers operational, security and compliance management. Each category has several distinct players in the marketplace.
2. The Sporting industry is big business. They have the same needs as any other business. They have networks and servers to run their infrastructure to serve their employees, their players and in some cases, their Fans. And Fans are pretty loyal. The parallel that I will draw is our customers are Fans. By last count, we have over 50,000 customers and the vast majority renew year after year. Price competition will only take you so far. High functioning technology and high quality support proves to be the determining factors on the playing field of IT Software.
I have compiled a list of Sporting companies who use ManageEngine. From the major leagues, the Sacramento Kings, Chicago Cubs and the 1st American League Central, Detroit Tigers, use ManageEngine. USA Olympic Volleyball too. Not only from the USA, but the Australian Football League and Chelsea Football Club use ManageEngine. These teams need to play somewhere and the Philly Comcast Spectacor, home of the National Hockey League